Get your merry on!!
We are ushering in the Advent season this Sunday with a packed worship service!
We will gather at 9:30 am to start the morning with Hymn Sing—then light the first advent candle, share communion together, welcome and install our new officers.
Wonderful day!
We have have Advent booklets and calendars for our little ones!
Please be sure to sign up for our very special Christmas luncheon! 
December 10th will be a joyous afternoon filled with good food and great music. Let's celebrate the holiday season together in this way! It doesn't matter if you just started coming to our church, or you have been here forever! This luncheon is for all of us!
Jerry K will be selling his beautiful succulent plants that he has crafted into pieces of art, Lola has donated some of her handmade pottery, and we are going to have a fabulous bake sale! All the proceeds from these sales will go to our church!
If you are a baker, please let Joan K know! We need your baked yummies for our bake sale!! If you are a knitter, we need your help to prepare more blankets to take to USC!
On Tuesday, Dec. 5th we will be gathering for our annual cookie exchange, where we start with a devotional and prayer time, have a lovely dinner together, and then we roll up our sleeves and get to work! Everyone who comes to this evening brings their own set of cookies, and we exchange them and put them in beautiful tins, but they are not for us!
These cookies are a gift to those in our church family who can't make it out easily and would love the Christmas cheer and love. Please talk to Lora Caldwell or Sylvia Boyd for more info to join! This year, the cookie exchange will be at the Boyd's home.
May God bless you this season,
Pastor Grace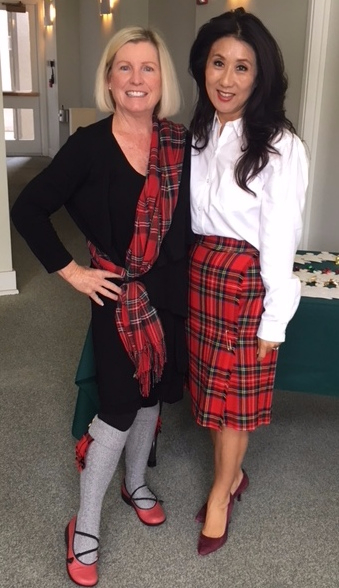 We celebrated Saint Andrew Sunday last week! Plaid was the fashion forecast!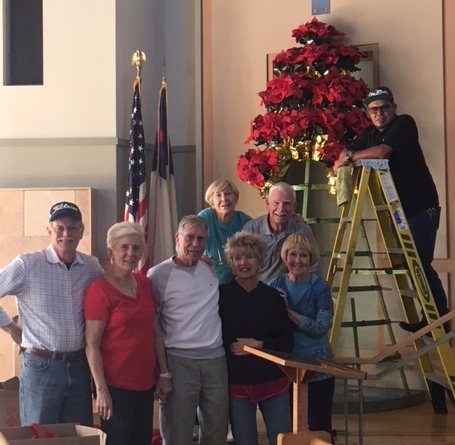 Thank you to our wonderful Christmas decorations team!